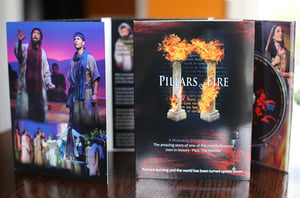 $

20.00
Filmed in HD with a cast of 70. Includes beautiful 8 page foldout booklet with additional reading and scripture references to enhance your learning and your experience. Includes Spanish subtitles and English Closed Caption.
Pillars of Fire is the sixth musical written and composed by Brent Grosvenor and the sequel to his musical about the life of Christ, The Passion of the King.
After the death of Jesus of Nazareth, His followers continued to spread His teachings and the claim that He had risen from the dead. Saul of Tarsus was a brilliant and prominent Jewish rabbi who led the persecution of these Jews set out to ravage and destroy them all.
Following his personal encounter with the risen Christ on that infamous road to Damascus, he was fully persuaded that Jesus was and is the Christ - The Messiah. he became His leading emissary. Known as Paul, The Apostle, he brought the light of Christ to the Gentile world. He is responsible for reaching all of Asia Minor and much of Europe with this message. Thirteen of the twenty-seven books of the New Testament are attributed to him. Emperor Nero had him executed in Rome in 67 A.D.
This musical bridges the gap between the first century and our time. It brings fresh insight to the teachings of Paul and brings the Book of Acts to life in a personal and relevant way. As we witness Paul's life of suffering, we also witness great feats and miracles done by the hand of the one true God in a polytheistic world.